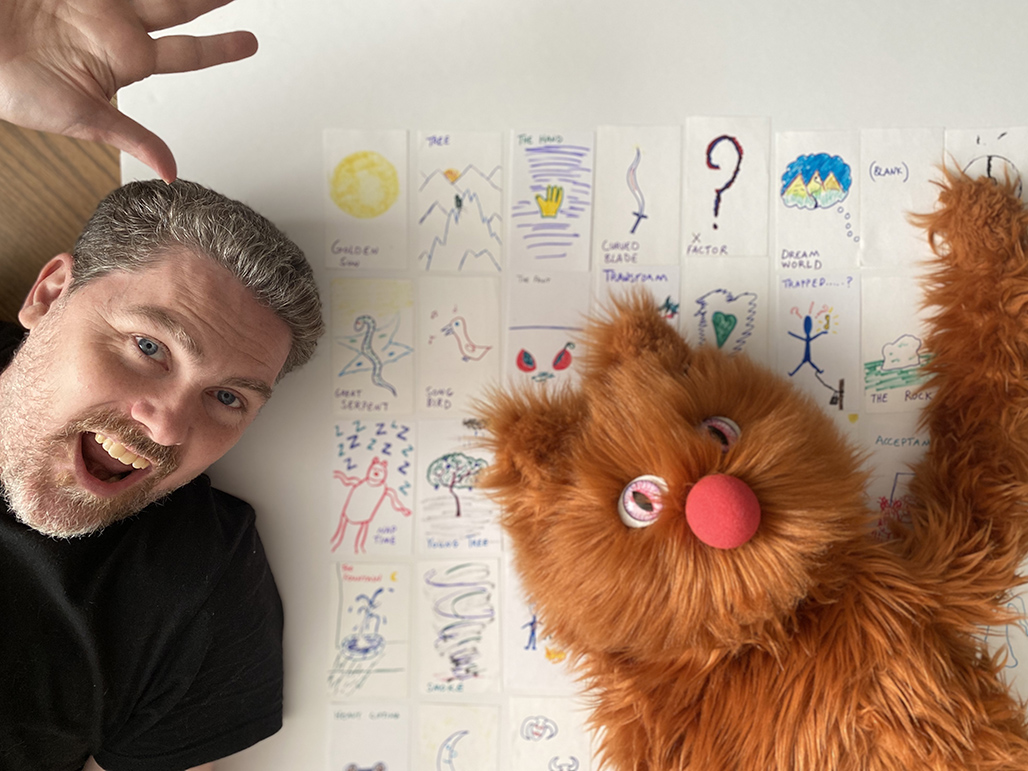 Zoon Card Readings
Using Zoon's custom 64 card, hand-drawn deck, Zoon and Bob offer card readings that are closer to an I Ching reading than Tarot, with Zoon's alien impressions and insights into the human condition.
Zoon's hope is that we gradually learn how to grow and live fuller, present, imaginative lives and his perspective is like a wise old friend from another planet popping in and gently zapping us awake. Bob acts as Zoon's assistant and is often as surprised by Zoon's insights as you are.
At the moment, we offer video and in-person readings at local spaces and partners. Our video readings feature three cards representing Past, Present (or in the process of Unfolding), and Future. Zoon then peeks into your situation and helps. In-person, you can also have the 3 card experience or opt for a simple 1 card reading where Zoon takes a look at where you're heading and tells you a bit about that.
Power of Play Workshops
Zoon and Bob also host workshops dedicated to teaching presence, spontaneous creativity (with the "secret" of profound originality), and the magic of being alive through the power of play. Play is the secret ingredient to good art, mindfully running a business, and learning to release trauma and embrace the great magical now happening all around you.
In these workshops, Zoon guides the group through a series of free-form exercises, works through more structured creation using the principles learned, and then discusses the results with the group. You will learn to be vulnerable and present in the moment and to pull creative rabbits out of proverbial hats, smoothly and effortlessly. And playing is a lot of fun!
If you would like to host a Power of Play workshop with Zoon & Bob, drop us an email by filling out our Contact form or by following us on Instagram and dropping us a message.
Reminders
You can also add "reminder" art works to lift the energy of your home, work space, or other important place created by Bob under Zoon's guidance. As a painter, Bob has a solo art show every year and this is your chance to commission a piece made with Zoon's insights into your reading or workshop experience so that you may have a beautiful reminder of the lessons, moments, and breakthroughs that resonated with you most deeply.
More…?
Zoon has bigger plans that he hasn't told anyone (including Bob) about and he will reveal them here when he is ready. So stay tuned!